If you're like me, when you travel you search out the yarn shops. That's what inspired us to start dyeing yarn. Folks would come into the shop asking if there were anything local and there wasn't at that time.
Now we have our Chincoteague Colors capturing the colors of Chincoteague and Assateague Islands, special yarns dyed for a special place.
We dye these yarns right here on the Island with colors to represent birds, places, things we see as we bike and walk the Island. We hope they will remind you of a day you spent here with us or perhaps would like to spend on an island.
Inlet Hues, a lovely DK wt yarn.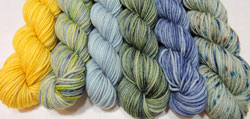 We have many yarn collections for you to choose from and enjoy.
Fingering wt - Cove Collection: 100% merino, superwash
Treasure Collection: 50% merino, 50% silk, superwash
Star Showers Collection: 75% merino, 20% nylon, 5% sparkly fibers, superwash
Surf Silk: 70% merino wool, 20% silk and 10% cashmere, superwash (if careful)

DK wt - Channel Collection: 100% merino, superwash
Harbor Collection: 70% alpaca, 30% silk, hand wash
Worsted wt - Creekside Collection: 100% merino, superwash
Seaside Collection: 50% alpaca, 30% merino, 20% silk, handwash
Tides Gradient: fingering wt - 80% merino, 10% cashmere, 10% nylon, superwash
Jewels of the Deep: deep, vibrant colors which will be available across all collections.