Queen Bee Alpaca farm is located just outside Georgetown, DE.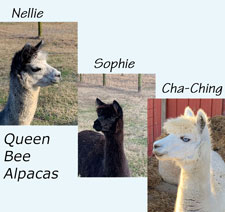 The alpacas share the acreage with a llama, 2 bee hives, chickens, kitties and one dog, a cross between a Chesapeake Bay Retriever and Golden Lab who seems fixated on retrieving branches and debris to park behind the farm vehicles. Be thankful it's not deer carcasses.
The alpacas are happy to just to graze, grow fiber, graze some more. The alpacas are sheared once a year and the fiber is sent to a mill where each alpacas fleece is kept separate and processed. The pure white fleece comes from Cha-Ching, this coal black fiber from Sophie and Nellie's yields a lovely grey. The products from the alpacas are varied from yarn, to roving to dryer balls.
Obviously quantity is limited from this small flock.