SoXperience 2014 will be on the beautiful Chincoteague Island, VA, the perfect location to do some serious knitting and then take breaks to enjoy the local scenery, and events the Island has to offer. Time has been allotted in the weekend for you to take advantage of the Assateague Wildlife Preserve (catch a glimpse of the legendary Chincoteague ponies) and 2nd Saturday Art Stroll and the weekend wouldn't be complete without a visit to the Carodan Farm Wool Shop.
We are delighted to have Lorilee Beltman presenting the workshops this year at SoXperience. Her articles or designs have been published in The Ultimate Hat Book (Vogue/Soho Publishing), Blue Moon Fiber Arts Rockin' Sock Club, Interweave Knits Magazine, Interweave Sockupied eMag, Twist Collective, and Beyond Toes by Judy Becker. She is a Craft Ya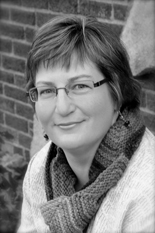 rn Council certified knitting instructor, a TNNA designer/teacher member, and a member of Cat Bordhi's Visionary Authors group.

Class Description:
Explore various ways that color can be added when contrast stitches climb vertically from round to round. These techniques do not inhibit the elasticity of the fabric, which makes it a valuable color tool for sock-knitting. Working in the round, we'll play with simple zigs and zags, intersecting lines for diagonal plaid, lines between lace, and purl-only columns that look like caterpillars. You may even want to experiment with striped cables; I'll show you some. We'll explore it's sketchy history- it is used in Rovaniemi knitting, as a substitute for duplicate stitch in argyle, and it even appears in a Japanese stitch dictionary.
This will be the focus of our learning time on Saturday. We will work together through pattern sections in order to learn the simple tricks to managing the yarn, which is not nearly as fiddly as intarsia! Toward the end of that time, I will encourage you to turn your thoughts to incorporating a motif into a design of your choice.
On Sunday morning I'll help you with those plans and sketches, or, if you are feeling insecure about your own design, I'll help you get started with a pattern I provide for you.
Materials
To work in the round using worsted weight yarn and a circumference of about eight inches, bring whatever needles you are currently comfortable using- DPN's, two circulars, or one 32-40″ long circular for magic loop knitting. Choose one or two sizes smaller than you normally use for working worsted weight wool- about a size US 5 to US 6, as we need snug stitches. Yarn will be provided. Blunt tip tapestry needle.
Skill level- intermediate, comfort with working in the round
Lodging: SoXperience will be held in the conference room of the Hampton Inn & Suites on the Island. The conference room is comfortable and spacious. Mention that you are with the SOX retreat when you register for lodging.
You may register on-line by simply clicking on the "add to cart" button at the bottom of this page which takes you to our secure shopping cart page where you can enter your credit card information.
Space is limited. Register today!

Weekend Itinerary

The cost for the SoXperience weekend is $125.00 which includes Friday evening, Saturday and Sunday workshops plus the yarn for your workshop on Saturday. Please make your lodging reservation directly with the Hampton Inn & Suites. If you need to cancel your SoXperience registration, a refund less administrative costs of $25, will be granted until March 11th. No refunds will be granted after that date. ***Please note that we do have a waiting list. If you discover, even after March 11th, that you cannot come to the event, please let us know. If we can fill your spot, we will refund your registration fee as above.**