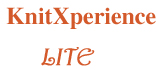 March 14-16, 2014
Chincoteague Island, Virginia

It's KnitXperience LITE or Low Impact Techniques for Everyone.



Shake off that winter malaise that seems to grab us by gathering with a group of knitters to relax with your current knitting project, share tips you've picked up, and even expand your useful knowledge of knitting while enjoying knitters' chat. Sound like fun? Read below for what we'll be discussing this weekend.







Some simple techniques can make life so much more enjoyable for us knitters. We'll be covering some this weekend that are sure to ease areas of your knitting stress.

Friday night begins at 6 pm with intros. (5 pm for those who have purchased dinner.)
And then it's off to the Carodan Farm Wool Shop on the Island for a time to browse & shop just for Lite participants. After we have shopped 'til we drop, it's back to the hotel hopefully with energy to show your current project or one (or more) you just finished. Wind down the evening with a relaxing Knit-In and catching up on news from fellow knitters.



Saturday morning is full of powerful techniques to add to your knitting repertoire such as:
Casting on for shawls, etc, that require 100+ stitches.
How to pick up dropped cast on stitches.
The correct way to pick up stitches.
How to handle two different dyelots.
Reclaiming yarn that has been tinked.

Saturday afternoon we will explore the website Ravelry. Bring your iPhone, iPad or laptop to join in and see how you can make it work for you. Even if you don't have an iPhone, iPad or laptop, you can still enjoy this because we will have a projector so you can view it also.

Sunday morning will consist of exploring various knitting apps and web sites that you can use daily with your knitting.

We'll send a Materials List to registrants.



Meals
Many of the restaurants on the Island close for the winter and don't reopen on regular schedule until April. We know that you will be traveling Friday afternoon, so are offering, as in the past, to obtain soup and/or sandwich for you for dinner from Sea Star restaurant on the Island. Please register below if you would like this provided. If you have a special request, such as vegetarian sandwich or soup, please indicate on your order form in the comments box provided there.
Would you like to have dinner together at a local restaurant Saturday night? Please indicate below if you are interested so we can reserve seating. (The entrees are around $20 and are not included in your registration fee.)



We like to keep our Retreats small, so space is limited. Register today.
Registration fee: $35 for the weekend from Friday evening to Sunday noon.

Register for KnitXperience Lite, Fee is $35.00




Register for sandwich Friday night, $6.75
Register for soup, Friday night, $6.75
Register for drink of the day, Friday night, $1.50
(

this is usually a mix of fruits with pomegranate, etc

and it is large)

Register for lunch, Saturday, sandwich $6.75

Register for drink of the day, lunch, Saturday $1.50
(

this is usually a mix of fruits with pomegranate, etc

and it is large)



Yes, I would like to have dinner at a restaurant with other knitters Saturday night. This is not a charge but simply to get a number for
seating.

Make lodging reservations directly with the Chincoteague Island Motor Inn by calling: 757-336-3141. Please tell them you are with the knitting retreat to receive the great rate they are offering us.



Cancellation policy for this Retreat. Please find someone to take your place if you find that you cannot come as there is no refund after registering for the KnitXperience Lite Retreat. If you cannot find someone to take your place, please let us know as there is usually a waiting list. Thanks!