KnitXperience Lite 2016 will be on the beautiful Chincoteague Island, VA, the perfect location to do some serious knitting and then take breaks to enjoy the local scenery. The island is just waking up from the long, cold winter but you'll see camillias blooming for sure. Time has been allotted in the weekend for you to take advantage of the Assateague Wildlife Preserve (catch a glimpse of the legendary Chincoteague ponies) and the weekend wouldn't be complete without a visit to the Carodan Farm Wool Shop.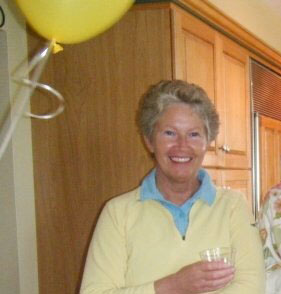 We are delighted to have Maryly Matthewson from Meredith, New Hampshire presenting the workshop this year at Knitxperience Lite. Maryly's family came to the U.S. in 1906 from Latvia settling in the Lake Winnipesaukee area. Maryly's focus of her workshops is to encourage knitters to design their hat through a choice of different color yarns, different texture stitches and patterns.

Class Description:
The original Lake Winnipesaukee Hat is an original design with patterns of mountains, waves and pine trees. Maryly has retained the original design but changed the patterns to reflect the beauty of Chincoteague Island. This will be a stranded knit hat using a lovely mix of hand dyed Chincoteague Colors yarns. Her style of sharing and knitting is based on the Japanese concept of Wabi Sabi. You do not have to be perfect in your artwork. There is beauty in imperfection, texture and irregularities.

Stranded knit patterns will speak of Chincoteague Island and colors will contrast to highlight the patterns of waves, trees and dunes. A new corregated rib, different knit patterns for texture, cable cast on, Estonian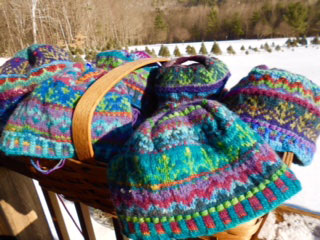 wrapped stitches or Latvian braid and a splash of color here or there will create your unique fabric. After this workshop you will be able to adapt any Latvian or Fair Isle pattern to create your own hat story. There are beginner instructions and advanced instuctions so you will not be overwhelmed or bored. Something for everyone. You make the choices and tell your story of Chincoteague Island.
Materials:
Circular needles size 7 - 16" length or double points in size 7.
Yarn kit which is included in the price of the Retreat.
Basic knitters supplies.
Lodging: KnitXperience Lite will be held in the conference room of the Island Motor Inn Resort on Chincoteague Island. Mention that you are with the knitting retreat when you register for lodging.
Cost:
The cost for the KnitXperience Lite weekend is $75.00 which includes Friday evening, Saturday and Sunday workshops plus the yarn kit for your workshop. Please make your lodging reservation directly with the Island Motor Inn Resort. If you need to cancel your KnitXperience Lite registration, a refund less administrative costs of $25, will be granted until March 1st. No refunds will be granted after that date. ***Please note that we do have a waiting list. If you discover, even after March 1st, that you cannot come to the event, please let us know. If we can fill your spot, we will refund your registration fee as above.**
Space is limited to 20 registrants. Register today!
You may register on-line by simply clicking on the "add to cart" button below which takes you to our secure shopping cart page where you can enter your credit card information.