Carodan Farm is pleased to once again host
the KnitXperience, A Knitters Retreat, at Graves Mountain Lodge.

Friday, November 7th - Sunday, November 9th, 2014
Needle Felt Animals with Sharon Costello
Our Knitters Retreat weekend at Graves Mountain Lodge promises new friends, catching up with friends from previous retreats and a wonderful introduction to needle felting with Sharon Costello, an experienced felter. You'll get hooked on making these little animals once you learn the process.
Sharon Costello started as a fiber srtist in the mid 80's with a small flock of sheep and a love of creative experimentation. She has been a full time, professional feltmaker since 1995. She is well known for her prize winning needle felted art dolls and felted vessels. This weekend she will be sharing her knowledge of creating miniature animals using only wool fiber and a felting needle.

.
Graves Mountain Lodge is a family-owned and operated rustic mountain retreat well known for its down home hospitality, not to mention all the home-cooked food you can eat. You will delight in waking to a view of the Blue Ridge Mountains that is without equal. Family members that come along can take advantage of the beautiful surroundings and go for hikes or fishing in the mountain streams, as well as finding the antique malls not too far away.
As in past years, we will have all of Popular Lodge to ourselves, complete with conference room for our workshops, kitchen and individual rooms for lodging. Porches that overlook the valley and trails by the Rose River add to the whole weekend picture.
Weekend Overview
On Friday, we'll gather in the Conference Room of the Poplar Lodge, have dinner together at the main Lodge and come back for an evening of introductions, meeting our instructor and seeing all her work that she has brought to share with us. And of course we'll have some fun things for you to do as we relax after traveling to the Lodge.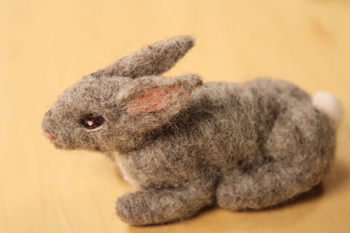 Saturday will find us busy forming our little bunny and learning how to handle the felting needles. Learn to sculpt these miniature animals using only wool fiber and a felting needle. In this class you will learn all the basics of sculptural needle felting...how to select fiber, what felting needles are best for different stages of your project, how to create various shapes and get smooth, firm results. In our morning session we will learn how to handle the wool to create basic oval, tubular and triangular forms while making a charming rabbit.

Once you've got the basics we will move on (in the afternoon and following day) to sculpting a dog. Here we will learn how to use a wire armature and create more defined anatomical forms as well as detailing eyes, ears, noses and mouths. Once you have finished you will have all the skills you need to sculpt any animal you can think of!

Saturday evening Sharon will talk about her felt projects in Guatemala and Mongolia where she is working with indigenous women through Mayan Hands and the Snow Leopard Trust.
As always Carodan Farm will offer an opportunity for you to view their new fall yarns as well as the Chincoteague Colors yarns that we dye ourselves. What's the new color for this fall just for KnitXperience 2014?

The Retreat will end with Sunday dinner.
Join us for this year's KnitXperience, the place to kick back and relax, meet up with friends and make new ones.