Carodan Farm is pleased to once again host
the KnitXperience, A Knitters Retreat, at Graves Mountain Lodge.

Friday, November 4th - Sunday, November 6th, 2016
Cool, crisp mornings, sometimes even a little frost can be seen. Lovely thoughts to contemplate as we head into summer. KnitXperience, A Knitters Retreat weekend at Graves Mountain Lodge, located in the Blue Ridge Mountains of Virginia is the perfect place to enjoy the oncoming fall season and have a brief get-away before the busy holidays are upon us.

We have a whole lodge to ourselves, complete with conference room for our workshops, kitchen and individual rooms for lodging. Porches that overlook the valley and trails by the swiftly flowing river add to the whole weekend picture.

Beth Brown-Reinsel is the instructor for this fall's KnitXperience. Beth has been teaching historical knitting workshops for over 25 years both in the United Staes and abroad. Her love of traditional methods and her skill in imparting that information to others makes her a very sought after instructor. Beth will be teaching the art of Norwegian mitten knitting with its particular techiniques.
Graves Mountain Lodge is a family-owned and operated rustic mountain retreat well known for its down home hospitality, not to mention all the home-cooked food you can eat. You will delight in waking to a view of the Blue Ridge Mountains that is without equal. Family members that come along can take advantage of the beautiful surroundings and go for hikes or fishing in the mountain streams, as well as finding the antique malls not too far away.
Weekend Overview

On Friday, November 4th, we'll gather in the Conference Room of the Poplar Lodge, have dinner together at the main Lodge and come back for an evening of introductions, followed by presentation of the weekend project. Beth will be conducting the Norwegian mitten workshops on Saturday and Sunday morning. As always Carodan Farm will offer an opportunity for you to view their new Chincoteague Colors yarns and provide you with any supplies you may have overlooked bringing. Ample time will be provided to take advantage of the many trails and streams at the Lodge. The Retreat will end with Sunday mid-day dinner.
Details of the Class: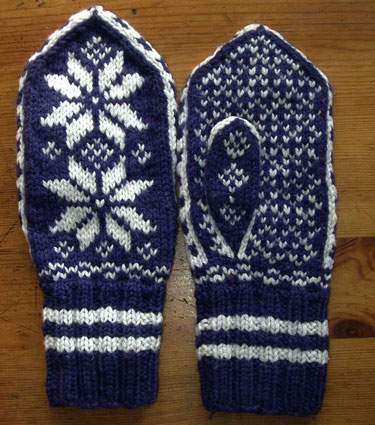 Learn the special details of Norwegian mitten construction by knitting a mitten in two colors, circularly on double-pointed needles, magic loop, or two circulars, whichever you are comfortable with. Work a striped ribbing without the odd color bumps that usually show in ribbing, create seam stitches, the classic Norwegian thumb gusset, work different patterning for the front and palm, and the pointed tip shaping at the end of the mitten. In addition, yarn dominance and three knitting styles for color stranding will be presented (knitting with two yarns in the right hand or left hand, and one yarn in each hand). Designing will be discussed.
Level of Experience: Intermediate. Must be proficient with dp needles, Magic Loop, or working with two circulars.
Supply list and homework will be sent when you register for the Retreat.

The cost for the KnitXperience weekend is $175 which includes Friday evening, Saturday and Sunday workshops. Please make your lodging reservation directly with the Graves Mountain Lodge. If you need to cancel your KnitXperience registration, we will refund your registration fee minus $25 until October 1. No refunds will be granted after that date.