KnitXperience: A Knitters Retreat 2014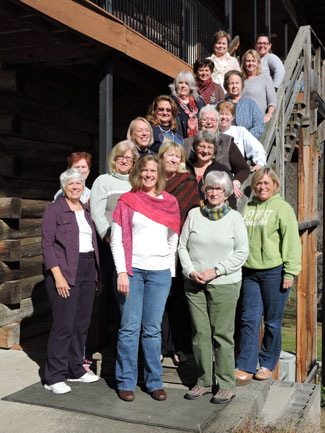 I think it's a known fact that knitters love to be around other knitters. And when those knitters are people you haven't seen in a year, it is doubly sweet. That's what we had going on this weekend retreat. And learning a new technique was especially gratifying.

Without too many ouches and drawing too much blood, Sharon Costello taught us how to amazingly craft wool roving into some of the cutest bunnies and doggies you have ever seen. I questioned our sanity though when someone said, hey, they're beginning to look like their owners! Especially since mine had these enormous ears. You can check out the critters we made and what went on this weekend by clicking on the group photo to see an album of the weekend.
Sharon shared slides of her trips to Mongolia where she trained some of the women to work with their available wool and make dolls to sell all within the framework of the Snow Leopard Trust. In Guatemala she also worked with a group training them to make items to sell under the Mayan Hands project.
A fun weekend with frosty mountains in the morning and piles of hot food to eat.

Join us in 2015 once again at Graves Mountain Lodge in Syria, VA, Nov 6-8th.


Click on the photo to view an album of the weekend.


Join us for the

2015 KnitXperience

November 6-8th, 2015
at Graves Mountain Lodge