SoXperience 2006
Saturday and Sunday
June 3-4
Join us for a fantastic weekend on the farm. Take one of the classes to increase your knitting skills or just bring your knitting and enjoy the camaraderie of fellow knitters and the relaxed, farm atmosphere.
We will have two tents this year - the "DND Tent" and the "Loafing Tent". The DND is for the serious, do not disturb, intense classes, and the other is for, you got it, loafing around and enjoying your neighbors, sitting in on a free class, whatever you like.
So, take a look at our class line-up, mark your calendar and register today. Class size is limited on some of them.
You may register on-line by simply clicking on the "add to cart" button beside the class listing which takes you to a secure shopping cart page where you can enter your credit card information, or print out the form, fill it in and send it thru the mail. Registration closes May 27.
Need to know details:
SoXperience is held rain or shine. We just put the sides up to the tents and keep on going. The shop will be open from 8-5 both days with a special coupon included in your registration packet. Water, coffee, tea will be available. Lodging information, lunch menus, directions will all be sent to registrants.
The following workshops will be taught:
Two Socks on One 40" Circular Needle
Not Another Scarf
Mitered Socks
Beginning Sock Knitting on Double Points
Turkish Cast On
Too Kool!
Workshop information:
Saturday, June 3
9AM-12PM: Two Socks on One 40" Needle
No orphans here! Get both socks done at the same time. For those of you who have experienced Second Sock Syndrome, this is your cure! Any pattern can be converted to the Magic Loop, and it is only a small leap to start and work on both socks at the same time. Toe up or cuff down, short row heels or heel flap - the possibilities are endless.
Skill Level: You must be familiar with sock construction and have knitted socks before. Knowledge of the magic loop method will be helpful.
Materials: Sock yarn and 40" Addi Turbo needles for this yarn.
Fee: $35
10AM-12PM: Not Another Scarf!!!Have you been staring at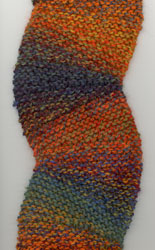 your stash of sock yarn, wanting to buy more but not allowing yourself until you work all
of your stash (or at least some of it)?
Well, here is the perfect answer. Using
the short row technique you've used so
often with your sock heels, make these
gorgeous scarves. Pictured is a scarf done
in Trekking yarn on size 10 needles.
Get a head start on Christmas gifts, or
make them for yourself.
Skill Level: Be able to knit and purl.
No sock knitting necessary.
Materials: Sock yarn and needles size 8, or 9, or 10.
Fee: No charge
1PM-4PM: Mitered Corner Socks
(this is a two part workshop continuing on Sunday 1PM-3PM)
Learn a new technique without making a potholder! We will learn this method by knitting the 4 start squares for this sock and then dive right in! This new technique is sure to bring
out yet another fascinating nuance of our favorite self-striping yarns. Watch as our stripes turn into what appears to be layered diamonds. You are guaranteed to not have
another pair of socks like this. This class will be taught beginning Saturday afternoon and continuing Sunday afternoon. You may sign up
for just the Saturday class if you want to learn just the technique of mitered squares or take the complete class, Saturday & Sunday, to make the socks.
Skill Level: You must be familiar with sock construction and a competent sock knitter.
Materials: The pattern from Heartland Knits is included in the class fee. You need to bring or purchase at the Carodan Farm shop, 3 skeins of Koigu or other similar weight sock yarn and the appropriate double point needles.
Fee: Two day workshop: $50
Saturday Only: $35
1PM-4PM: Beginning Sock Knitting on Double Pointed Needles
Learn the basic construction of a sock by knitting a miniature 4 inch sock. Learn the heel flap and gusset construction of the heel and Kitchener stitch bind off at the toe. You will be able to take this knowledge gained with the practice sock and launch into making your very own "real" socks.
Skill Level: Know how to knit and purl and a familiarity with double points would help.
Materials: The yarn and needles for one miniature sock will be provided.
Fee: $5.00
Sunday, June 4
10AM-12PM: Turkish Cast On for Toe Up Socks
Love doing toe-up socks, but can't find a cast-on that doesn't require major surgery? The Turkish cast-on is for you! This cast-on creates a smooth, even start for any project that begins with a closed end. Works best with circular needles, but can be use with double points as well.
Skill Level: Know how to knit and purl.
Materials: Bring sock yarn and circular needles or double points.
Fee: Free
10AM-12PM: Open Knitting: Grab some yarn made available and knit a square for Warm Up America Afghan or just bring your knitting projects and enjoy the company of fellow knitters.
1PM-3PM: Mitered Socks continued
1PM-3PM: Too Kool!
Do names like Blue Moon Berry, Grape Berry Splash, Slammin' Strawberry Kiwi have visions of colors dancing through your head? Learn how to dye yarn with these non-toxic kool aid dyes. What a great thing to learn so you could have a fun day with your children this summer. If all else fails, you can add ice and have a nice cool drink.
Skill Level: Able to enjoy getting "down and dirty"
Materials: Provided
Fee: $5.00
To register on line using a credit card, just click on the "add to cart" buttons beside each class listing below which will register you for that class and take you to a secure page where you can enter your information. If you would like to register by mail, print out the form below, fill it in, and mail to the address below for Carodan Farm Wool Shop.
Name:

Address:

City, State, Zip

phone #

e-mail address:

Register on line by clicking on the appropriate buttons or print out page and mail:

Saturday: 9AM-12PM

Two socks on One 40" Needle

$35

Not Another Scarf!

FREE

Saturday: 1PM-4PM

Mitered Socks

Saturday only

$35

Saturday & Sunday

$50

Beginning Sock Knitting

$5

Sunday: 10AM-12PM

Turkish Cast On

FREE

Sunday: 1PM-3PM

Too Kool

$5

Total:

If mailing your registration, fill out the information below

Enclosing check:

Charge to my credit card:

MC VISA AMEXP DISCOVER

credit card #

expiration date:

Signature:

Mail to: Carodan Farm Wool Shop

156 Shepherds Hill Rd.

Stanardsville, VA 22973
Lodging, general area information follow these links:
Tourism site which includes lodging, restaurants, attractions in the area
For hotels in area, please search under individual hotel of your choice for Charlottesville, Culpeper and Harrisonburg, VA. These are all 30-40 minutes away from Carodan Farm.
Please send questions and comments to: caroline
Carodan Farm Store| Carodan Farm Yarns| Exclusive Designs| New Additions| Sales| Yarns|