No Dan, it's cowls!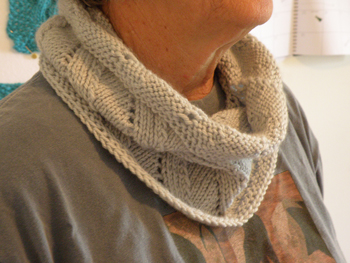 We have a comunication problem sometimes. He looks at me strangely when I say cowls are hot this fall hearing only cows and wondering what made all the cows hot. Good grief. I'll work on him.
Here's the cowL that my friend Cathy made for the shop in the Leche yarn. Actually that does have milk protein in the yarn. A double good grief. Cowls are neat because they can be a fashion accessory or worn under your coat for warmth and then removed. Just think of rushing out the door in the morning to the car with the wind howling and being able to snug that up over the bottom of your face until you get the heater going. YUM!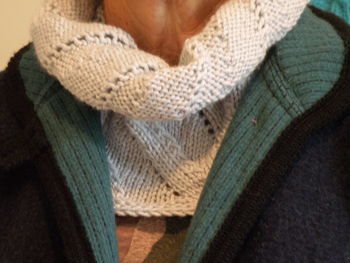 This pattern is a free download on Ravelry called the birthday cowl. The pattern lends itself to lots of different yarns. We used the Leche yarn because of its softness and total appeal. It took 2 balls with some left over.