Melissa and I are knitting the sampler vest from the Cast-On magazine. We have nicknamed it Irene because we started it the weekend of the hurricane not knowing how long the possible siege would be. We were content with our knitting no matter what the weather brought at the ready with our battery powered lights. We were set!
Of course knitting has slowed down a bit but we're getting there. Both of us had trouble with one of the patterns, me the most. I pulled it out  – 3 rows, 3 times and finally got it right. She only pulled out 1 row several times. So….I won right?
Here's a photo from the weekend. I'm lots further now and I'm sure Melissa is too. We are both using MadelineTosh Sock yarn.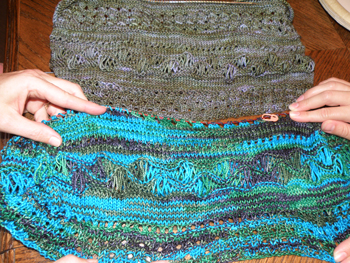 Well, Melissa just informed me that she is at the split for the arms….bah! so I am way behind.