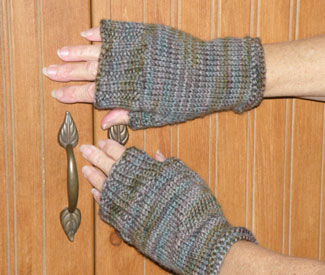 Fingerless mittens are the project doing battle with the Einstein Coat right now. I knit these two at a time in the magic loop way. I was working on these the other evening and Dan looked over and said, "Socks?" And I said, "No, mittens." Shaking his head he said, "Next it will be two sweaters at one time." Now, doesn't that give pause to consider all the possibilities?
Knitting Two at One Time

Use the magic loop (knitting on one long needle) to do all your circular knitting. Double points have not touched these mittens. I even do the thumb by way of magic loop. And of course two at one time. Can you tell I'm not very patient? After discovering I can do socks two at a time, there's not going back.