Beads and Whales?
Hats seem to be what's flowing off my needles lately. Cooler weather is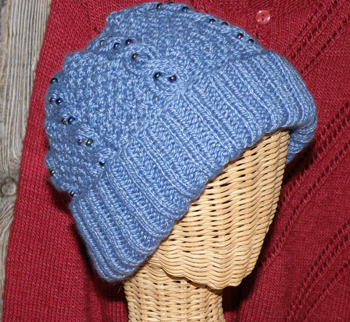 coming and my grandson, Naaman, confided in me that the hat I knitted him last year has a hole in it. Well, I think grandma can take care of that although these two that I just completed won't do for him at all.
This is a beaded hat using a Cabin Fever pattern and Frog Tree Meriboo. This yarn has become so popular, anyone who squeezes a ball is in love immediately. We have the kit available complete with beads (although you don't have to bead it if you don't want) on our kits page which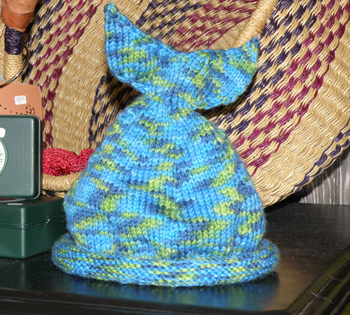 is soon to be uploaded to the website.
Then there's the Whale of a Tail hat which is too cute. Also a Cabin Fever pattern and this time I used Colour 4 You yarn which has great colorways in solids and plains. That little whale tail on the top is perfect for the tiny babies, maybe this will go over better than the blanket with our little Joshua. We will have the whale hat kit available on our kits page this week also.
Warm wools in just a beanie hat design are what the college kids want just to pull down over their ears. Who am I kidding, they want to pull it down over their hair on bad hair days! When winter comes, our family looks forward to discovering them tucked away to pull them on in Philly, towns in Delaware and here on the beaches when the cold hits.