Posted by Caroline Hershey
Posted by Caroline Hershey
Softness!
Sand Dollar sale this week ending Sept 20th 5pm. It's Rowan Cashcotton regularly $8.95 on sale for $4.50/50g ball. Check it out!
Posted by Caroline Hershey
Melissa and I are knitting the sampler vest from the Cast-On magazine. We have nicknamed it Irene because we started it the weekend of the hurricane not knowing how long the possible siege would be. We were content with our knitting no matter what the weather brought at the ready with our battery powered lights. We were set!
Of course knitting has slowed down a bit but we're getting there. Both of us had trouble with one of the patterns, me the most. I pulled it out  – 3 rows, 3 times and finally got it right. She only pulled out 1 row several times. So….I won right?
Here's a photo from the weekend. I'm lots further now and I'm sure Melissa is too. We are both using MadelineTosh Sock yarn.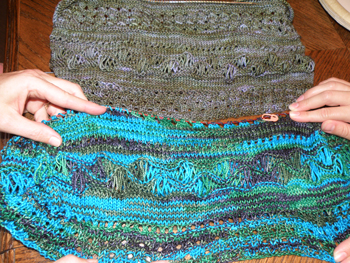 Well, Melissa just informed me that she is at the split for the arms….bah! so I am way behind.
Posted by Caroline Hershey
Your favorite sock yarn
Regia Square Color has been chosen for this weeks Sand Dollar Sale. A perfect yarn for socks, most in a little heavier weight. Thinking of winter coming, sad as it may be, it will be here before you know it. Make some socks for Christmas gifts or a nice pair for yourself to wear around the house instead of slippers.
Regia Square Color is usually $7.95/ball. Really giving you a wonderful deal at $1.00/ball. Just enter the words "sand dollar" in the coupon box on your shopping cart, click on recalculate to see your discount.
Have a great time with this!
Posted by Caroline Hershey
Wouldn't you know. I'm at the last set of openwork pattern, 3 sets of stacked yo's and lo and behold the last set is off by one stitch. Must have been the TV program I was watching or perhaps it was my grandsons wearing me out on the beach? Either one would do as an excuse, right? Well, that translated into having to rip out all three sets (228 sts on each row – just so you get the picture here) and this has put me behind and Melissa is coming today and she probably is up to binding off for the neck. Only kidding, (I hope). Will take a pic and post it so you can see great gnashing of teeth on my part and the smug smile on hers.