Have you ever wondered what else you could do with that mountain of stash besides socks? Sarah came up with this one.
I was working for Mom on the website checking out patterns and making sure they come up correctly, when this pattern for the scarf appeared. I thought, " Oh, this would be a fun one to try (never having done shapes before, am I nuts!) and it would also show off some yarn colors nicely. So Mom supplied me with the pattern and the yarn. It's a Regia 4 ply sock yarn called Avenue Color (coming soon to the website)Â and the Regia solid color white. The pattern is a Cabin Fever pattern called, Calling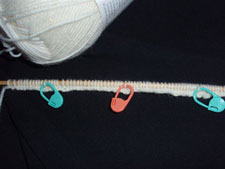 All Angles. Here's how it progressed. There was an Oopsie with one of the middle blocks where the TV got more attention than the knitting which meant all the cast on stitches went on one side which meant a mess and another hour of backtracking and starting over. ARGHHH!
See what you think of it.
Cast on with the solid color and use those all important stitch markers!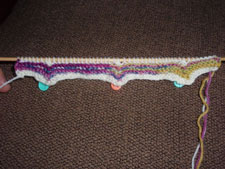 Add a little color and things look a bit different.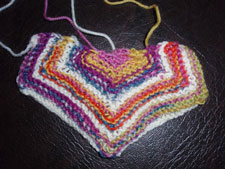 One block completed!
 
Two blocks.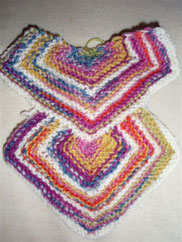 And now three blocks. After the initial blocks you work smaller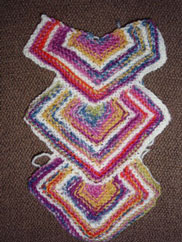 blocks around the neck and then complete the scarf with the larger blocks
 
 And now the finished product!